Art Spiegelman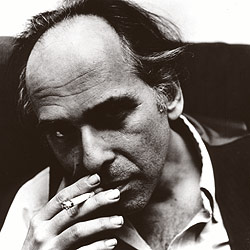 Art Spiegelman was born in Stockholm in 1948. The son of Auschwitz survivors who soon relocated to Rego Park, New York, he began working for the Topps Gum Company in 1966, creating novelty cards, stickers and wrappers for candy products. Spiegelman's work subsequently started appearing in underground comic publications. In 1979, he co-founded with his wife Françoise Mouly RAW magazine, a landmark periodical in the history of comics, and later Little Lit: Strange Stories for Strange Kids.
Maus: A Survivor's Tale composed of My Father Bleeds History and And Here My Troubles Began - acclaimed as "the most affecting and successful narrative ever done about the Holocaust" - received a specially-designated Pulitzer Prize in 1992. The Wild Party: the lost classic by Joseph Moncure March, illustrated by Spiegelman, appeared in 1994.
Spiegelman is currently composing In the Shadow of No Towers, a monthly strip which appears in Yiddish and other Romance languages.
Art Spiegelman lives in New York City.