Lyubomir Nikolov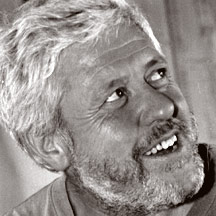 One of the great poets of the Balkans, Lyubomir Nikolov was born in 1954 in Kiryaevo, a village in northwestern Bulgaria, and educated in Sofia where he worked as a translator, literary critic and broadcaster before emigrating to the United States in 1990.
Described in Child of Europe as "a wrestler possessing the sensibilities of an oriental tea ceremony", Nikolov remains the great white hope of Bulgaria, " not because of the sweet pollen, but just to swing a while ".
Nikolov's collections of poetry include Summoned by the Tide, Traveler, Raven , and the forthcoming Elegies .
"Water flowing down the stone,
a lizard flitting through the grass.
What prayer can bring you such
sweet freedom from your soul?"
Lyubomir Nikolov lives in Poolesville, Maryland.