Ladislav Nagy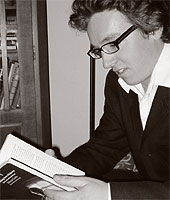 Ladislav Nagy was born in 1974. One of the founders of iliteratura.cz, the finest Czech literary web-site, co-editor of a book of essays on 20th century British fiction From Nightingale to Parrot, regular contributor to literary periodicals reviewing English written literature, is currently involved in teaching at the Department of English at Charles University in Prague.

Last modification of this page: 26th March 2003, 10:40

Main Sponsors:



Information content: © 1998-2003 Festival spisovatelů Praha, Křemencova 7, 110 00 Praha 1,

march@pwf.pragonet.cz
WebSite © 2001-2003

CP Online, a.s.