| | | |
| --- | --- | --- |
| | Authors | Marilya Yoshimasu |
| | | |


Marilya Yoshimasu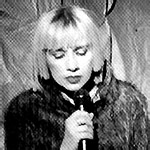 Vocalist Marilya Yoshimasu, based in Tokyo and Paris is indescribable in words. To the naked ear, she is a composer of rare power. Her songs, many of which are settings of the poetry of her husband, possess a magic primarily found in nature.
Through her voice we hear alternatives.
"There is no death, only process.."

Last modification of this page: 26th March 2003, 9:17

Main Sponsors:



Information content: © 1998-2003 Festival spisovatelů Praha, Křemencova 7, 110 00 Praha 1,

march@pwf.pragonet.cz
WebSite © 2001-2003

CP Online, a.s.